Pros
RTP: 94.9%
Max main bet: 100
Max side bet: 50
Cons
Malfunction voids all plays plays and pays.
No jackbot
Playing Blackjack has never been easier with Blackjack 11. Just place your bet and sidebet for each hand you want to play with and try to get as close as you can to 11 points. You can play with a maximum of 3 hands.

Gameplay
Place your bet for each hand you want to play with and try to get to 11 points. Cards of rank 2 through 10 are valued according to their face value. All the faxcards are 10 points. aces can be worth either 1 to 11 points. Drawinf an ace as first card counts as Blackjack and you are paid 3:2.
Getting over 11 points counts as busting. A busted hand is considered as lost.
The expected return to player (RTP) is 94.9%
After you played all your hands the dealer will draw until he has at least 7 points. After the dealer is done drawing, the dealer's hand is compared to the player's hands. The hand with the highest number of points wins and is awarder 1:1 (2x). If you win with a blackjack, you get 3:2 instead of 1:1 (2.5x). Equal hands are pushed and the wagers returned.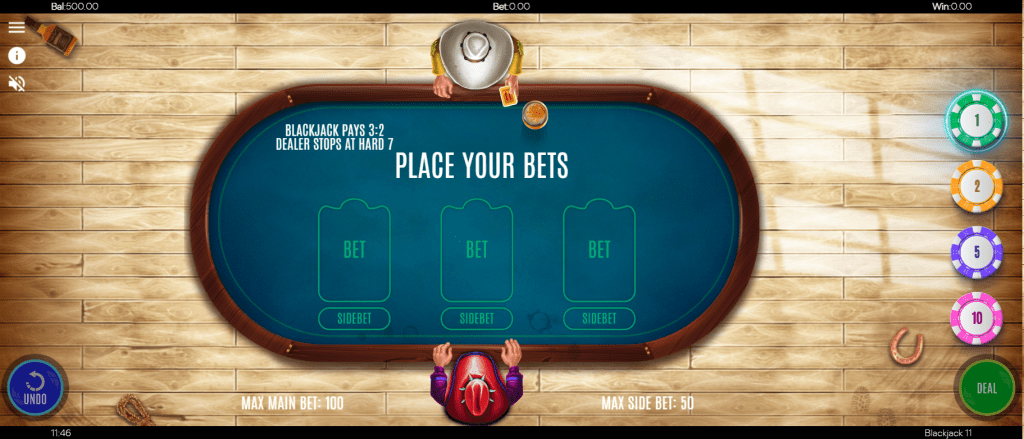 If you placed a sidebet, you will be awarder based on the Sidebet Paytable. You can place a sidebet for each hand you play with. You will win a sidebet only when the dealer BUSTS.
Sidebet paytable
If the dealer busts with 2 cards you get paid 3:1, 3 cards you get paid 4:1, 4 cards you get paid 10:1, 5 cards you get paid 50:1. Also if the dealer busts with more than 6 cards you get paid 500:1.