I grew up in a spicy food household, which means that my tolerance for heat is pretty solid. I mean, my mom used to make me choke down all sorts of torturously hot creations from a very young age, so I'm pretty sure I've burned the taste buds off my tongue already.
But, a couple of years ago I made the horrible mistake of trying to participate in the Carolina Reaper challenge. You know the one, surely? It's when idiots (such as myself) attempt to eat the Carolina Reaper pepper – one of the hottest chillies in the world.
Well, there was an attempt. And it ended in tears.
To say that I hit the roof would be an understatement. And as bad as the sensation was going in, it was even worse coming out.
And on that lovely note, here's Burning Chilli X slot from BGAMING.
Gameplay
There's nothing game providers love more than slapping some flames on a basic fruit slot – which is exactly what's happened here, in Burning Chilli X slot.
And that's not to say that I'm automatically opposed to all flaming fruits (on the contrary, I'm a huge ally to the fruit community), but this shtick is getting a little tired.
On the plus side, Burning Chilli X slot comes with some mean stats – if we're just looking at the RTP that is. Yep, the return to player rate comes in at 97.25%, but that's mixed with a low/medium volatility rate and a 9,872x multiplier… nice.
The max win comes in at €246,800, and bet limits range from €0.20 to €25. And you can use any currency to bet!
This slot is built on HTML5 software, so it looks good on a mobile device (my choice would be landscape mode for this one), as well as on a desktop. The graphics are decent enough to pass on whichever device you choose, but don't expect any award winning animations.
Features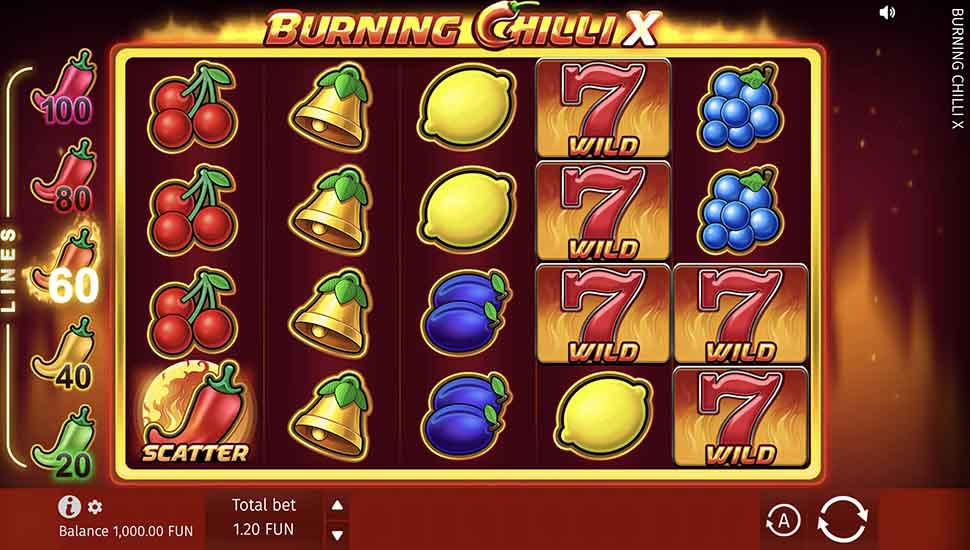 SCATTER
Pays on any position.
WILD
Substitutes for all symbols except the Scatter.
VARIABLE PAYLINES
Use the controls to the left of the reels to toggle the paylines between 20, 40, 60, 80, or 100 lines.
Performance
This slot is so simple that it really would have been a massive surprise if things didn't go exactly as planned. So, am I impressed that it worked glitch-free on my mobile and desktop (and Chrome and Safari)? Not really, but it's good to know in any case.
Maximum Win
A €246,800 max win is really fantastic, especially if you take all of the other factors into account! You can achieve this with a bet of just €25 – thanks to the multiplier.
Conclusion
God, I really hate to be the bearer of bad news here – but Burning Chilli X slot would have an easier time putting out a flame than starting one. It's just a snooze fest all round, with practically zero features to choose from.
However, the max multiplier and payout are super generous – are you turning down €246,800? Not likely.
And there's something to be said for the simplicity and the nostalgia-factor I suppose – but I prefer a bit more action from my games. Slots are about the only place I'm actually getting some of that in any case.
Slot Details
Software: BGAMING
Game Type: Video Slots
Paylines: Up to 100
Reels: 5
RTP: 97.25%
Bonus Round: No
Progressive: No
Free Rounds: No
Maximum Win: €246,800